So there's this thing called the Internet, and turns out Rob and Kristen know about it. They probably can't remember a time when there wasn't.  Which makes us feel old since we, you know, definitely can.  Because they are savvy it's apparent that R/K are aware (or have been made aware) of what's said about them online. We know that Rob knows about fanfiction, and Kristen (YouTube fangirl that she is) has seen fanvids. Ok, technically she has only mentioned fan-made trailers, but we can't help but think some of the work by the super talented Robsten vidders has made its way onto her periphery as well. In fact, they both have flat-out stated that they Google themselves.
We totally respect this level of curiosity. One of the many things we love about them is how they strive to make sense of the insanity that surrounds Twilight; including the idea of fandom and how it manifests online. We don't see it as navel-gazing or self-obsession, and we admire that they don't take for granted their own awesomeness as a foregone conclusion of their celebrity. They've never shied away from mentioning the online presence in press. It's so intrinsic to their current personas that it would be disingenuous to pretend it doesn't exist or that they don't know about it. So it stands to reason that if Rob and Kristen are informed regarding the content that exists about them, it's not such a far leap to assume they are relatively aware of the content-makers as well: the fans. Pssst, they can see you.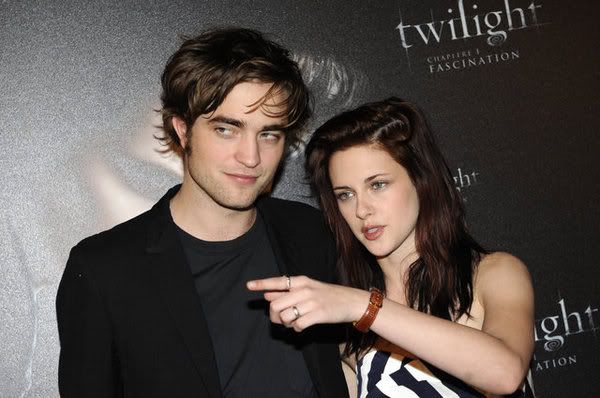 This awareness was highlighted when Kristen was doing an interview with MTV's Josh Horowitz for Welcome to the Rileys promotion, and was asked about a certain fandom term. She knew about it, and beyond that expressed an (negative) opinion with regard to said term. Someone somewhere told Kristen (and her "brother") about this prevalent moniker, and she inevitably asked 'who', 'what', 'where', and 'why' in search of enough evidence to actually form an opinion.  We have a major affinity for people that choose to vet information before coming to a conclusion, and whether or not you subscribe to the legitimacy of the perceived "insiders" at AT, IMDB, LJ, etc; episodes like this one make it impossible to deny that there is a pipeline that exists between fandom's social media and Rob & Kristen. Personally, we love that Horowitz asked that question. We think any dialogue that R/K can have indirectly (even via a Beastie Boys t-shirt) with the fandom is a positive thing. We are living in a time of unprecedented access to celebrities and that is a gift that should not be taken for granted.
But inevitably, it is.
"Because of Internet stuff and Twitter, there will be a crowd if you are in a place for more than half an hour…I've learned never to stay in the same place for more than 20 minutes." – Robert Pattinson
"It's like you're trampling on someone's life without any regard. And it's rampant. Everyone can do it now. Buy a camera and you're paparazzi; get a Twitter account and you're an informant. It's so annoying." – Kristen Stewart
Remember the old days when Twitter wasn't around, and we didn't get minute-by-minute updates on what any given celebrity was doing? By "old days" we mean way back in 2008. Yeah, neither do Rob and Kristen. We're not talking about the truly news-worthy events that happen; like premieres or press junkets. In that respect, journalists (like Horowitz, who meted out portions of his interview via Twitter) allow us to "attend" said event with them. It's a win/win situation: the media outlet reaches a wide audience with a few taps on the keyboard, and the fans get a peek at information we might have formerly had to wait days for. GASP! The horror!
But those are public happenings, ie: part of their job. By being "public figures" do Rob and Kristen forfeit all their rights to privacy? Is that how it works now? Because sometimes it does seem like certain folks use that as their credo, and by the sheer "insider" aspect of being located in the same place R/K are, they tweet what shouldn't be tweeted. Examples of this include: "Rob and Kristen are staying at the XXX hotel!" or "I'm looking at Rob and Kristen right now as they eat pasta primavera at Random Restaurant." In a matter of minutes this information gets re-tweeted dozens if not hundreds of times. It's the domino effect gone viral, and most of the time it ends with Rob and Kristen having to flee like criminals while cameras are shoved in their faces. We know, we know: it's a public place and sometimes things cannot be avoided. But when the cause of the intrusion is specifically connected to an "informant" tweeting about it (under the guise of being a fan) it kinda leaves a bad taste in our mouths.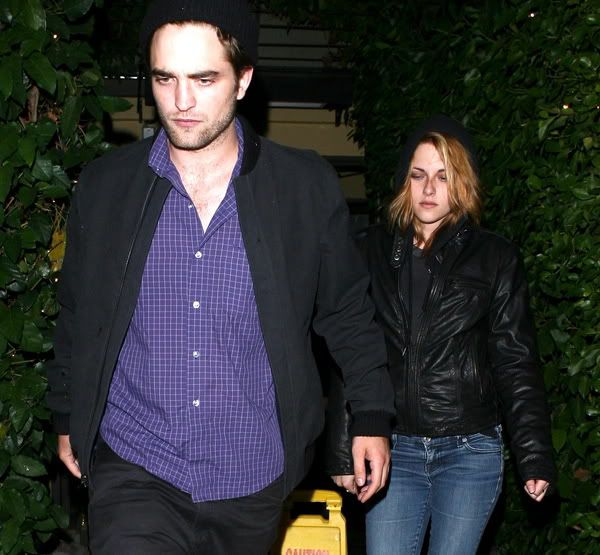 Both Rob and Kristen have stated their dislike for Twitter and the effect it has had on their lives. If you're a fan, wouldn't you try your best to respect that opinion and not expose them to something you know they hate? Make a fanvid, or a picspam, or tweet old quotes or interviews, or do something that speaks to your affection for them; not your desire for attention. Because we've seen evidence that invariably they learn about this "fan" behavior, and we'd bet one form aggravates them a lot less than the other. It's not like keeping that "juicy tidbit" to yourself for a couple of hours will upset the balance of the fandom. However, it may just give them a little breathing room. 
Twilight and all it encompasses has brought Rob and Kristen a lot of good things professionally; which they readily acknowledge and appreciate. But that doesn't mean any and all aspects of their private life and relationship are something we should feel entitled to. They've both gone on record stating that is not something they are interested in "selling" (Rob on Nightline) and that it's not part of their "job" (Kristen in Vogue). We all love seeing photos of them and hearing stories about them. There's not a simple answer as to what everyone finds acceptable or not. That's something for people to decide for themselves, and in terms of how we attempt to respect their privacy: we can promise there's not a question you could ask of us that we haven't already asked ourselves.
We've been thinking a lot about this as Breaking Dawn production moves from Baton Rouge back to Vancouver. We have been dreading this move, because we kinda loved the radio silence of Louisiana. This fandom was spoiled ten times over with all of the pics, gifs, and vids we got from Brazil. No one expected that much access to such a core part of BD's filming and we were lucky to be gifted it. We're not so naïve as to think it was a magnanimous gesture on Summit or Condon's part. It obviously behooves the studio to promote the saga in this way. But we also interpreted it as an unspoken agreement between the fandom and TPTB – we are giving you this, this is the extent of what you get and that extent was generous: glimpses into R/K's downtime as well as hyper-affectionate, kissyface Edward/Bella. *sigh*
Once the actors returned to Baton Rouge, we heard very little and saw even less. There was no doubt that Rob and Kristen were still somewhere out there breathing and walking and talking and snogging. We even got additional glimpses of them on holiday together and at the People's Choice Awards (an appearance where Kristen got quite a bit of grief from the "fans" regarding her behavior). The only thing we didn't see was R/K at work, which is what they've been doing for the past five months, and will continue to do in Canada for the next two.
Their only obligation to anyone is to deliver the best possible performances in films that will be seen over the next two years. It's not their job to promote the saga in the interim by going out for drinks so rags have something to write about; it's not their job to stroll through an airport gate so paps can get an adequate picture after they've just stepped off a plane; and it's not their job to abide the entitlement of a fandom that always wants more.
Rob and Kristen know what's said about them online, and more than accommodate the persistent interest of total strangers. For example, Kristen had not been photographed for 44 days prior to arriving in Los Angeles last Friday. She had been out and about in the world, and even traveled some without being scooped at all, but the natives were getting restless and people (on Twitter) were anxious to see her again – voila! she is "caught" returning home from Baton Rouge. NinjaStew took the day off so Kristen could accommodate her fans.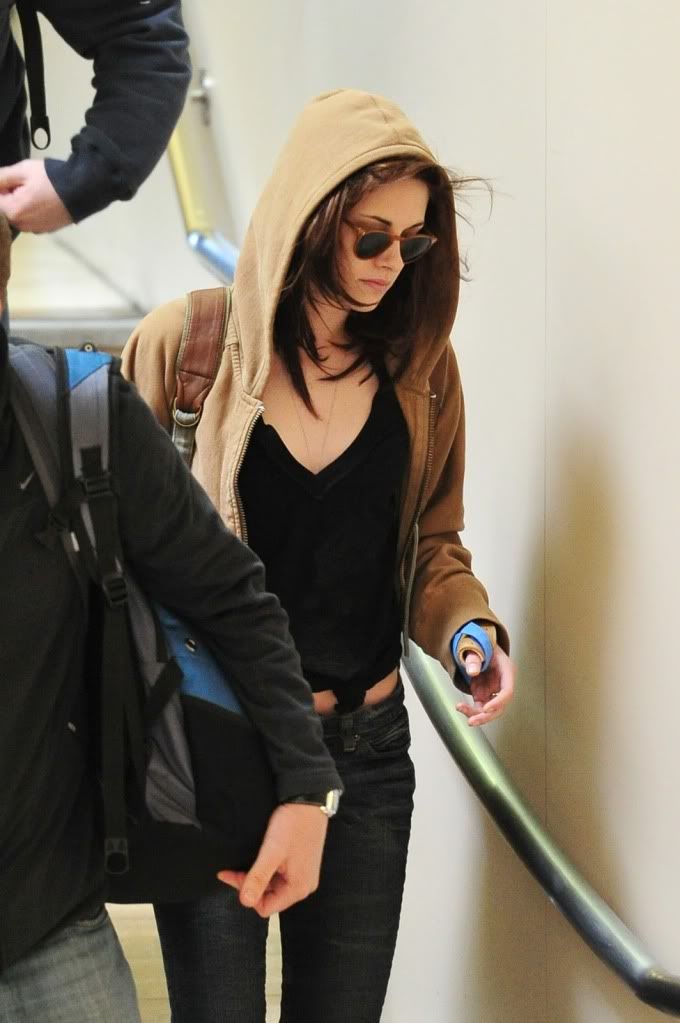 We have no idea what the next two months of filming will entail, but we're trying to keep an open mind. We think it's worthwhile to remember that droughts don't last forever. There's always another Moantreal, Robsten de Janeiro, or Isle of Wight just around the corner. R/K will give us access to what they feel comfortable with and there's no need to stampede, stalk, or invade in attempts to take what is not ours in the first place. The only thing they really owe us is what unfolds on-screen. Everything else should be up to them, and appreciated as a bonus. Undoubtedly they will see the evidence of our appreciation.
[originally posted on RobstenLove.com's blog on 02/24/11]